Working from home, spending weekends at the house, and domestically doing everything can become tiring. As quarantine levels go down and more places start to re-open you might be wondering what to do in the meantime. That's why we created a list of fun activities for every member of the family to stay safe during the pandemic.
Mom
Virtual Exhibitions
Avoid the long lines and go straight to enjoy the works of art. Exhibition halls around the globe may be shut, however, you can still take a look at the fortunes they hold. On exceptional occasions such as what we are encountering today, exhibitions are now deciding to go virtual with the assistance of VR. With Google Arts & Culture you can take a look at different exhibitions from a wide variety of museums all over the world. Expand the quality of your experience by using EZCast Mini Box to view everything with 4K video output to get a super clear image quality and make the observing experience ultra-clear. In this way, you will be able to spot every detail from the historic artifacts.
Travel Experiences
"But How?" you might be thinking. Well, it turns out that the travel industry is adapting to the new circumstances by turning to offer online versions of their normal activities. For example, you can digitally meet the puppies of Chernobyl or become a chef following the steps of @ilsalviatino on Instagram. You can learn to cook famous Italian cuisine with an accomplished hotel executive chef. With EZCast Mini Box you can stream and mirror this content from any smart device such as iOS/Android/macOS/Windows.
Digital Wine Tastings
Although some places have begun phased reopenings following lockdowns because of Covid-19, a few places are experiencing a regrowth in cases and numerous individuals are yet going to online encounters for socializing. Wineries, brands, and industry stars have adapted accordingly to the situation. Here are some options for your virtual wine tasting experiences: wine.com, bottles nation. Improve your date by using your EZCast Mini Box to enjoy a strong connection with dual-band wireless-or use the Gigabit Ethernet port for more stable streaming.
Dad
Sports Events
Missing the rush and excitement of a live tournament is normal. Nothing compares to the enthusiasm and anticipation before a game. But even during a global pandemic, you should be able to enjoy these contests. Watch events such as Big Ten and the FIFA AFC Champions League hosted in Qatar 2022 stadiums. You can mirror these matches with high resolution with EZCast Mini Box. With EZCast Mini Box you can forget about the Wi-Fi dead spots in your house and stop worrying about losing the signal. Thanks to its external antenna, EZCast Mini Box lets you connect with an extremely stable wireless network even when you are this far away from it. One of the most special highlights of EZCast Mini Box is that unlike other streaming devices, EZCast Mini Box has LAN/ Ethernet connection. In consequence, it can provide a more stable wireless transmission.
Nature webcams and wild animal live streams
Outdoor hiking and backpacking aren't the wisest options for fun right now. Going out safely is difficult at this precise moment. But you can still enjoy the wonders of nature from the commodity of your home. From the Monterrey Aquarium to watching kangaroos in Australia, with EZCast Mini Box you can appreciate these animals live cams without any interruption. This is because it ensures you with speedy internet, fast and stable.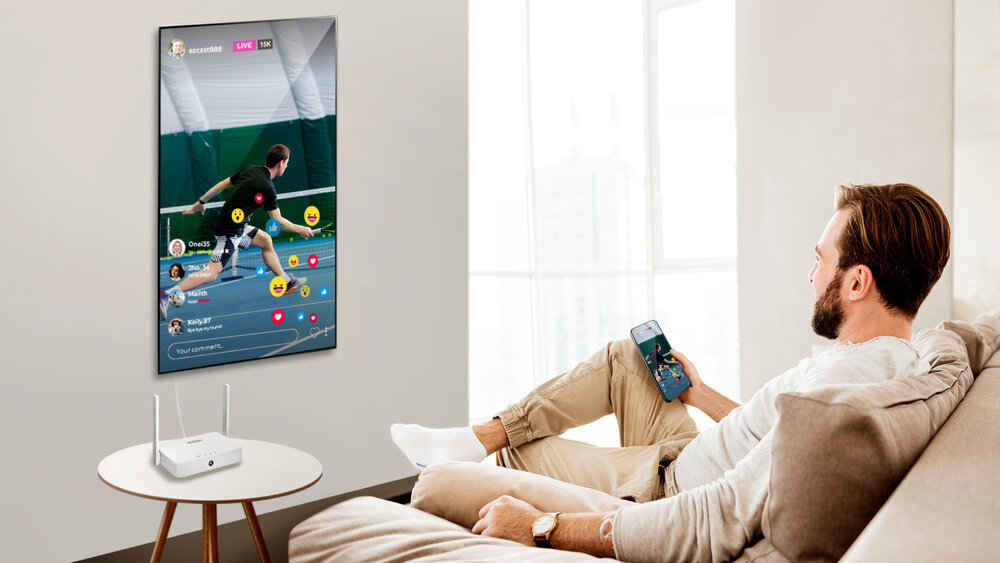 Sister
Runway Shows
Take advantage of the fact that many designer houses are now exhibiting their collections through digital platforms. The internet has become an essential tool for brands to express their art on a global scale. Feel like a fashion connoisseur in the front row of the runway. Now you can enjoy events such as the London fashion week which now has an online focus by broadcasting their shows live online. You can also take a closer look at the delicate classic looks of haute couture pieces. Here are some of the available exhibitions: Christian Dior, Designer of Dreams, Balenciaga: Master Craftsman, and Kobe Fashion Museum.
Learn to Draw
Now that you have a bit of spare time you can take online classes to transmit your energy and emotions into drawings. When using the EZCast app you can turn your phone into a document camera to share your creations into the online world. You can do this by using the feature of "Camera" and putting your phone into a tripod. EZCast Mini Box also lets you share your photos and videos from iCloud Photos or shared albums on the big screen. It also allows you to use portrait mode for both pictures and videos. Portrait mode is now a common feature on most smartphones. It helps you to take better pictures of individuals by catching a sharp face and a nicely blurred background. It's particularly made to improve close-up photographs of one individual — consequently the name "portrait". With EZCast Mini Box you can display your portrait pictures and videos on a vertical monitor with a full screen so you can take a better look at the pictures you are drawing or just show your creations to your friends & family.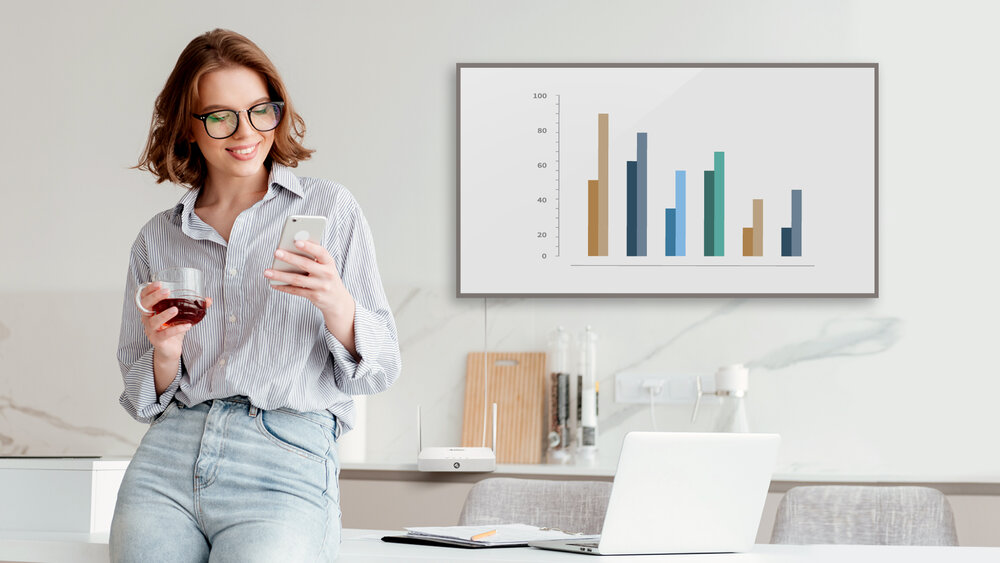 Brother
Smartphone and PC games
Now you can share time with your friends on a big screen. With EZCast Mini Box you can enjoy popular games like Call of Duty or Among Us and enter into virtual sessions with all your friends and still be social distancing. EZCast Mini Box works perfectly with a vertical gaming monitor and gives users the best gaming experience with mirroring mobile games with full screen. If you are a fan of gamer's youtube channels you can use the Youtube streaming feature. EZCast Mini Box can stream videos from YouTube to a TV directly while letting users multitask on their phones.
Virtual tours of the International Space Station and other NASA facilities
Being at home doesn't have to be boring. Explore the sky and the stars as an astronaut with NASA's virtual tools and apps. Visit the International Space Station and explore different NASA facilities. Take a tour on the moon and experience the most powerful telescope ever built. Even when you are this far away EZCast Mini Box lets you connect with a high distance network, and extremely stable wireless network performance.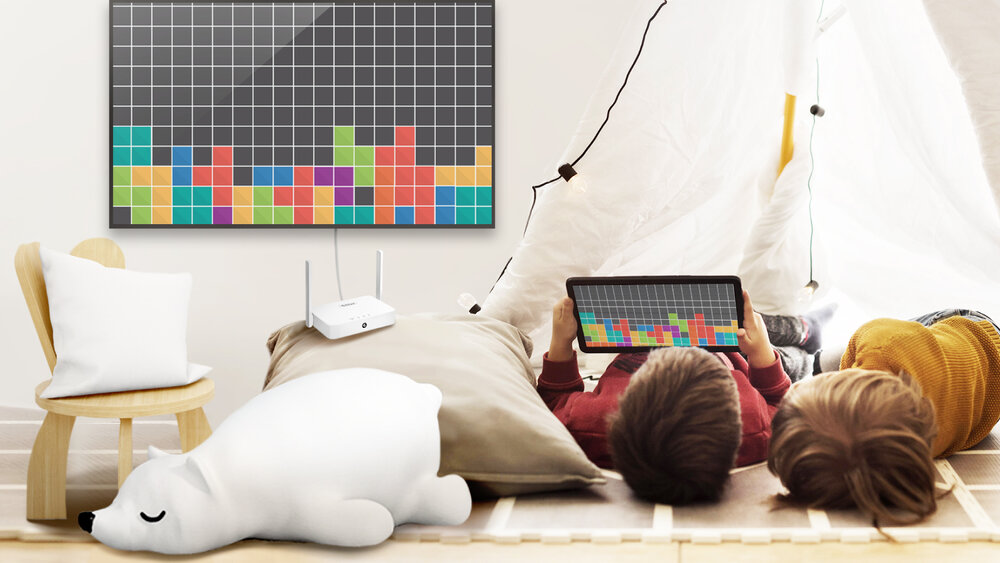 Family Time
Finally, you can turn your whole house into a smart home. With Mini Box you can have a fabulous interaction with your voice: No more typing to find exactly what you are looking for. Just ask Google Home or Alexa to command EZCast Mini Box to show artists or songs you love. Additionally, you can determine autoplay wallpapers. Just stream pictures from your USB drive automatically when you plug it in the EZCast Mini Box USB port. In conclusion, with EZCast Mini Box, it does not matter if it is wired or wireless, the entertainment never ends. This is because it supports mobile wired streaming, and plug & play. Connect your smartphone to EZCast Mini Box via charging cable and enjoy stable streaming immediately.
If you love EZCast Mini Box and want to become our distributor, please contact sales.
Or, get EZCast Mini Box from the EZCast store right now.
EZCast Mini Box is now available on Amazon store.
More info:
EZCast Mini Box helps create reliable streaming media for GENUINK during CES 2020