Over the past decade, improvements in technology have dramatically altered the way we enjoy television and movies. In a world dominated by mobile phones capable of playing high-definition video, with bluetooth headphones with fantastic sound quality, and streaming technology allowing us to play just about anything, in light of these massive technological leaps, is the traditional home theater of a decade ago now obsolete?
Not even close. In fact, there may never be a better time to put together a home cinema system, in terms of both affordability and options.
You've already got your man cave set up, why not take the next evolutionary step and turn it into a home theater as well? Despite the perception of us being a society perpetually on the go, there is still no substitute for the shared experience of enjoying a big game or binge-watching the hottest new show with your favorite people in the comfort of your own home.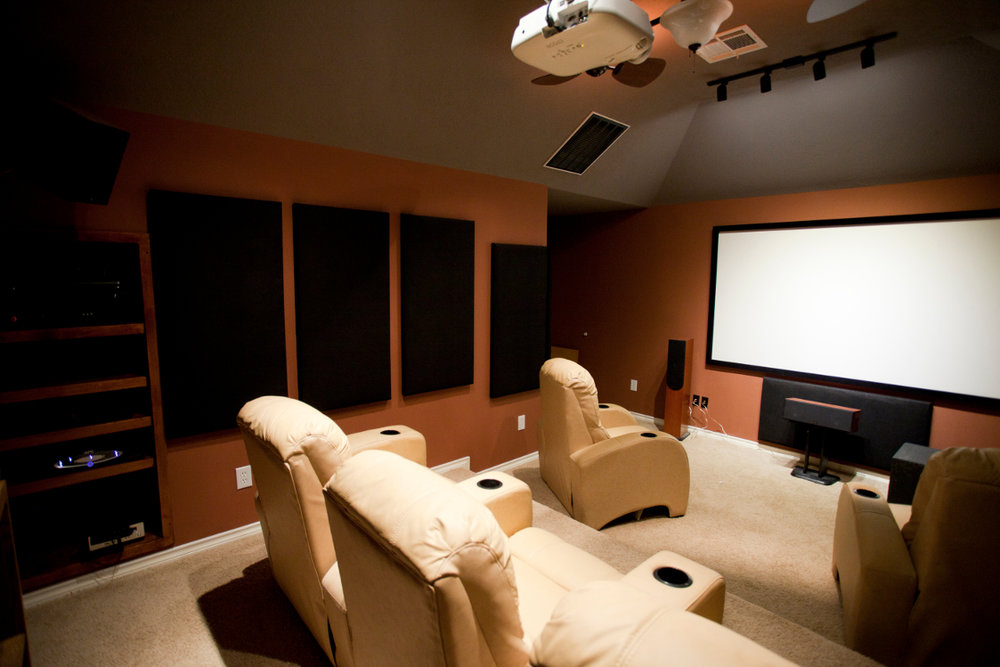 So what does it take to get your home entertainment system setup going? Surprisingly little. Chances are you already have one or more of the components already installed, which makes this a very sensible upgrade to a home entertainment system.
Here are some home cinema setup ideas for your man cave on a budget:
An HDTV as the centerpiece
If you already have a man cave, odds are you already have an HDTV installed, which could make this step skippable for many people. But if you don't have an HDTV or feel the need to invest in a new one, take comfort in the knowledge that the price of High-Definition Televisions has most likely dropped significantly since the last time you bought one.
There is no consensus on what constitutes the magic formula for the best home cinema screen experience. The best approach is to figure out which features you don't need and work your way backward. Sure, Smart TV's are great, but if you're never going to use that handful of features, why buy one?
Choices on screen size and composition (LCD, LED, or plasma) are mainly matters of personal preference and space limitation, but if you are going for the authentic home theater experience, check out the refresh rate. Most low-to-mid level HDTVs on the market today offer 60 Hz (60 frames per second), with higher-end models coming in at 120 Hz. If you want to get in front of the technological curve, consider going with the 120 Hz. This is especially true if you plan on watching lots of sports or other content where motion blur is a concern.
A receiver as the heart of the home entertainment system
The receiver is, for all intents and purposes, the central nervous system for your audio visual system. If your receiver is doing its job correctly, you shouldn't even notice it exists. If your receiver doesn't work, more problems are sure to follow.
Unless you're a real audiophile or have a specific need for something fancy, most modern receivers on the market will fit the bill. One feature worth checking out in advance is the number and variety of inputs available on your receiver. With HDMI as the clear standard, so make sure your receiver has enough HDMI inputs to handle everything the home entertainment system requires.
Speakers as the life of the party
An immersive sound experience is one of the biggest draws of a home theater setup. Unfortunately, it can also be one of the costliest. The best way to maximize your speaker configuration isn't necessarily to buy the most expensive tower speakers available but to make sure you correctly place them throughout the room. The positioning of your speakers may not seem like a big deal, but it can make or break your cinematic experience.

In situations where you need to conserve money or space, a sound bar is a smart investment. Most sound bars are amplified on their own and conveniently connect directly to your devices.
High speed connectivity so you never run out of content
A weak Wi-Fi signal can render a powerful home theater setup virtually useless, so it makes sense to take a look at the connectivity before setting up your home entertainment system. If possible, run a wired Ethernet connection to a router next to your components so you can hard wire each one individually. The difference will be noticeable, especially if you plan on watching streaming video.
Web content is king
Five years ago, the source of your content wouldn't even be a consideration. You would hook up a cable box and a DVD player and consider your bases covered, but that was then, and this is now. Some cord-cutters have eliminated the traditional local cable service, opening up a plethora of options.
The real question you need to ask yourself is what your home theater is likely going to be used for and let the answer determine your content strategy. If you plan on watching all of your local sports teams, you're probably stuck with cable. If your focus is on movies and streaming content, a combination of subscription services like Netflix, Hulu, or Amazon Video may offer enough variety at for your man cave on a budget.
Just remember this is an area where the market is quickly evolving. YouTube's streaming television service, which the company is rolling out nationwide, offers all the major networks and quite a bit more for far less than the standard cable subscription. All you need to do is cast the content from a mobile device to your television with Chromecast or EZCast.
Even an Apple TV if you prefer the Apple ecosystem.
There has never been a better time to set up a home theater system. The technology is remarkably diverse and affordable, creating a nearly unlimited amount of options to turn your man cave into a spectacular place to watch the game. The key is to do your homework to ensure everything will come together as easily in reality as it does in your imagination.