Let's face it, everyone has a smart phone now.
Content is no longer viewed only on HDTVs through cable subscriptions.
But also through mobile apps, like Netflix and YouTube.
If you are reading this article, it's likely you already consume media on your Android phone.
And you hope to cut back on the USD 100+ per month cable fees.
After digging around,
You have narrowed down to two devices, Chromecast vs EZCast, to bring mobile content to the big screen.
In this article,
We'll describe the differences between Chromecast and its alternative, EZCast.
So you can find the best wireless HDMI receiver without buying an expensive smart TV.
Chromecast works best within a local Wi-Fi network, while EZCast also supports direct Wi-Fi connectivity
While Chromecast and EZCast both display content to the big screen via Wi-Fi.
Chromecast works best when connected to a local Wi-Fi network.
This means you want to be in the presence of a strong local Wi-Fi signal, to stream and share content to Chromecast.
EZCast supports both local Wi-Fi connectivity as well as direct linking to your phone or laptop.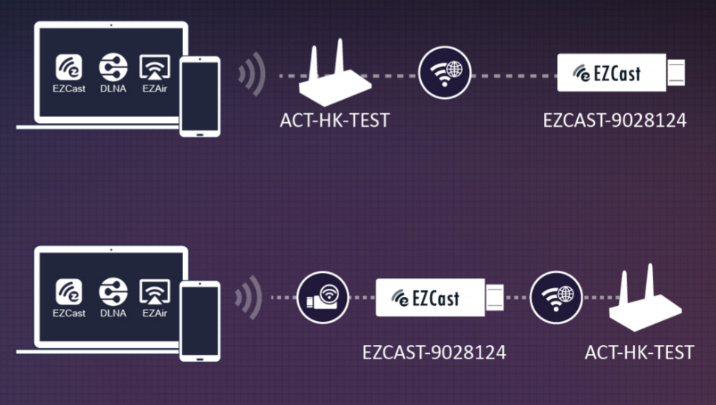 Connect to an EZCast top) via local network, or down) directly.
So you get the option to connect the EZCast ad hoc network when you only want to share content locally.
Or use mobile data to stream content from the web.
Chromecast's version of direct wireless display, comes in the form of "Guest Mode".
It lets devices not connected to the same local network to cast by entering a 4-digit pin shown on TV.
Both Chromecast and EZCast offer the full range of features to cast Android devices
Both devices can screen mirror content from Android mobile devices to HDTVs.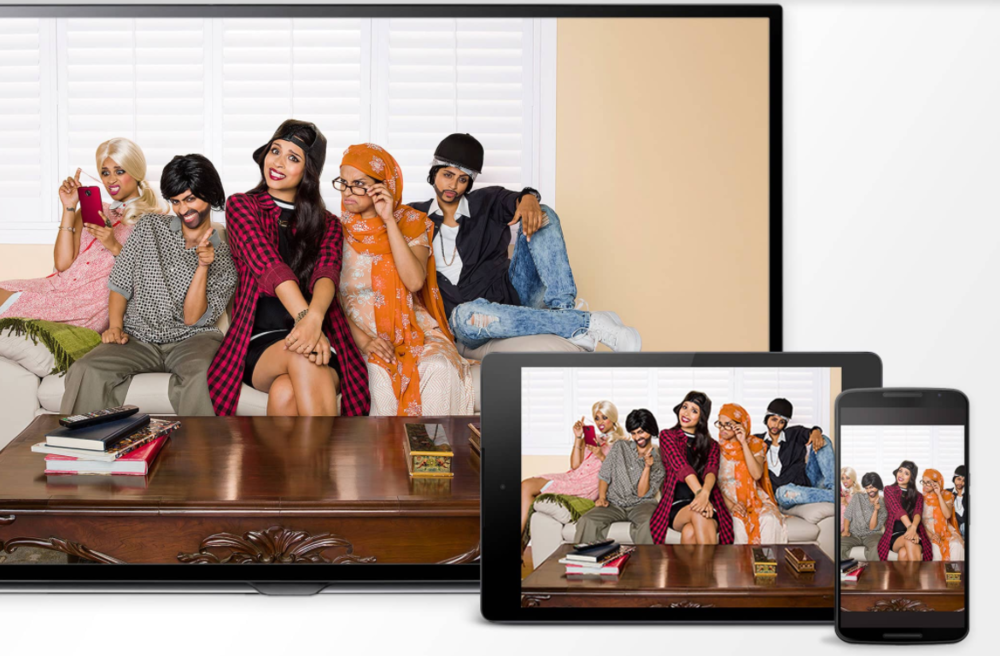 Mirror or cast Android devices to the big screen. Image source: Google.
Both devices can stream content with supported apps, such as YouTube, EZChannel, when connected to a local Wi-Fi network.
Streaming with YouTube.
In streaming mode,
The phone screen will change to a remote-like interface, to reduce battery consumption.
Chromecast excels in this area from the greater pool of supporting apps than EZCast.
EZCast makes up for the shortage of apps with screen mirroring function, albeit with less battery efficiency, and also support Miracast for Android and Windows.
So, what about EZCast vs Chromecast on the other popular mobile platform?
Chromecast support is limited with iPhones and iPads, and EZCast uses iOS's native AirPlay
Chromecast doesn't support AirPlay,
So iPhones and iPads users can't screen cast to Chromecast easily.
Thus, iOS users can only stream to Chromecast using supported apps, such as YouTube and Netflix, with the Cast function inside the app.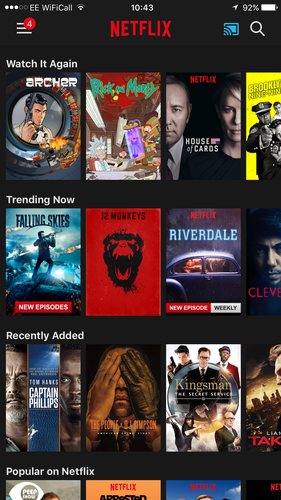 Use the cast button in the app to stream video with Chromecast. Image source: Macworld.
What happens if the app does not support Chromecast or you just want to share your phone screen?
Then you are out of luck, as there's no other way for you to stream or mirror it to Chromecast.
In this situation, EZCast has the upper hand by supporting AirPlay, so you can mirror your iPhone screen to EZCast flawlessly.
Another way is to use the EZCast app to stream photos and videos to an EZCast dongle from your iOS devices.
Windows and Mac laptops screen mirror to Chromecast via Chrome browser, while EZCast supports both Miracast and AirPlay
The best way to use Chromecast with laptops, whether Windows or Mac, is to use the Chrome browser.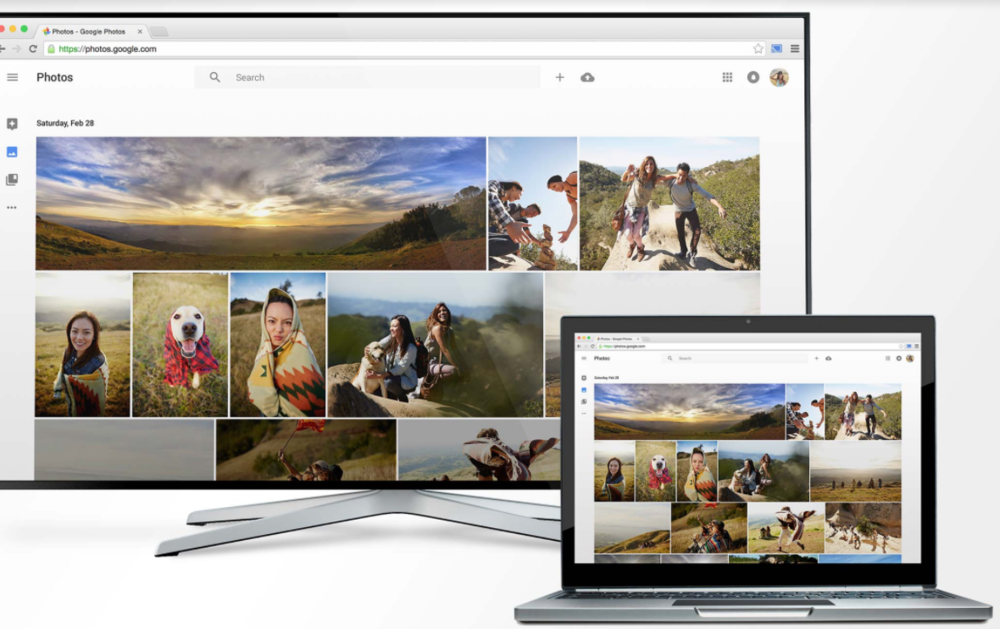 Use the cast button in Chrome to mirror browser content to Chromecast. Image source: Google.
By installing Chrome, you can execute the "Cast…" function from the options menu and share any browser tab or the desktop to Chromecast.
EZCast's versatility across OS means it receives content from Windows and Mac via Mircast and AirPlay, respectively.
So mirroring to EZCast is intuitive no matter which laptop you use.
Chromecast for Android mobile only, EZCast for cross platform compatibility
In the argument of Chromecast vs EZCast, each has different strengths.
By now, you will see both Chromecast and EZCast work well to screen cast Android devices.
While Chromecast supports more streaming options for better battery efficiency.
EZCast is a better choice if you intend to work across many devices, and want to involve friends to join the screen casting fun, and it remains the best way to Android cast screen to TV without Chromecast.
Either way,
You can cut the cable fees, pass on the latest smart TVs, and use your mobile phone to run a premium home entertainment experience.
All without breaking the bank.
Here is a more comprehensive comparison between Chromecast and EZCast.