As virtual assistants become heavily integrated with our smartphones, we find ourselves voice searching websites, locations, music and videos with Siri and Google Assistant frequently, not to mention leaving voice messages to friends via Whatsapp and Facebook Messenger.
What happens if you want to access smart gadgets in your home and don't want to take out your Android phone every time you want to watch YouTube videos on TV?
You might be interested in using smart speakers like Alexa Echo to help you playback videos, with no hands.
Alexa is a virtual assistant developed by Amazon that is powering smart speakers, such as Alexa Echo, to help you control your gadgets with voice commands.
By installing different Amazon Alexa skills, you can ask the smart speaker to play music, send messages, shop online, turn lights on and off and even call an Uber.
How to use Alexa to play videos on TV
A great way to use Alexa Echo to make your living room a lot smarter, is by voice controlling your TV to search and play online videos.
Play NBA videos on your TV by voice command.
The best way to set up voice control TV entertainment is by connecting your HDTV with a set-top box or a wireless display receiver, like EZCast.
By connecting your EZCast dongle with Alexa through the EZCast skill, you can voice search YouTube videos and play them on your TV, without using remotes or smartphones.
How to setup Amazon Alexa with EZCast
Before you can voice command video playback on TV, you need to setup and link your Alexa Echo smart speaker with an EZCast wireless display receiver.
This can be done using an iPhone,
Or an Android phone.
Step 1 – connect EZCast dongle to HDTV and power it on
Simply connect the dongle to the HDMI port of an HDTV, and power it with an USB power adapter.
Step 2 – use EZCast app to setup internet connection of the dongle
Execute the EZCast app on your smartphone and connect your dongle to the internet.
Use EZCast app to connect wireless display receiver to the internet.
Step 3 – use EZChannel to bind the EZCast dongle to your account
Next, execute the EZChannel feature within EZCast app, and sign into your EZChannel account.
Then you can bind the EZCast dongle on your TV to your EZChannel account.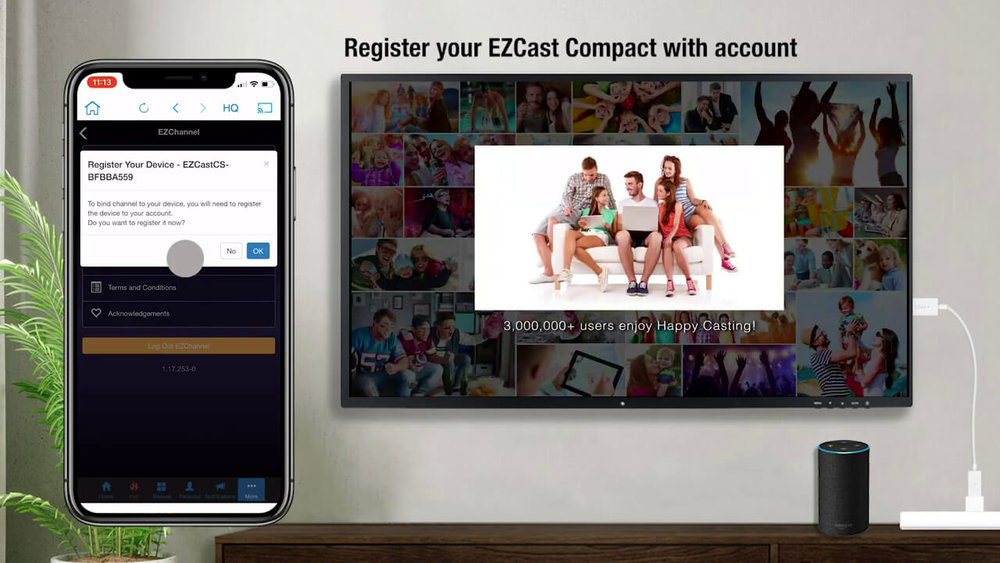 Use EZChannel to bind the dongle to your EZChannel account.
Step 4 – execute the EZCast skill in Alexa app
Execute the Alexa app to search and install the EZCast skill to your Alexa Echo.
Once the EZCast skill is enabled, you can link your EZCast dongle to the smart speaker.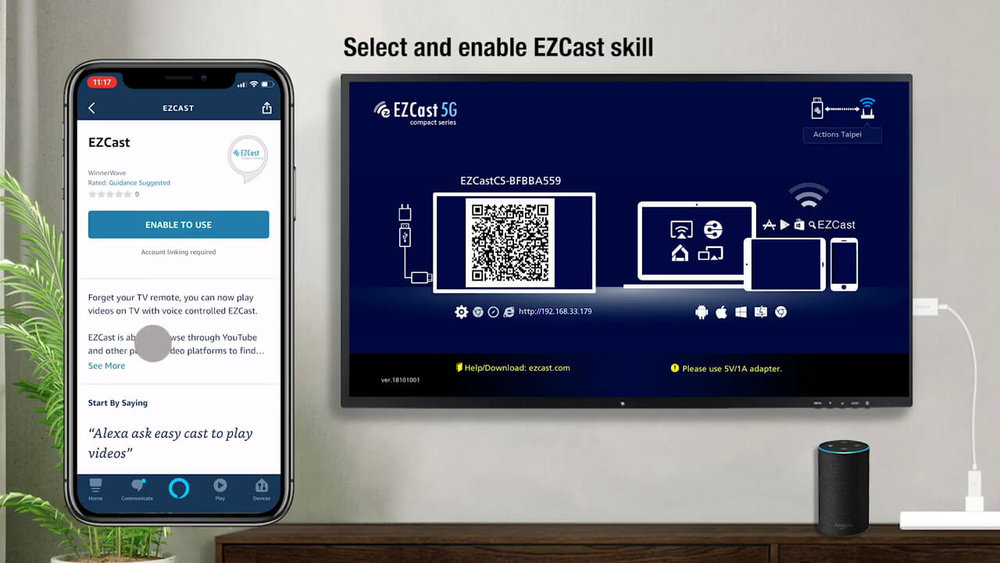 Find and enable the EZCast skill in Alexa.
Now you are ready to voice control TV with Alexa to search and play your favorite online videos.
Alexa TV commands to voice control EZCast
Here is a list of frequently used Alexa TV commands for you to voice search online video and voice control video playback.
PLAY VIDEOS
Ask EZCast to play videos

Ask EZCast to play Katy Perry videos
SEARCH VIDEOS
Ask EZCast to show Katy Perry videos
CONTROL CHANNELS
Ask EZCast to show my channels

Ask EZCast to play watch list channel

Ask EZCast to watch it later
PLAYBACK CONTROL
Ask EZCast to pause video

Ask EZCast to play video

Ask EZCast to stop video

Ask EZCast to play next video

Ask EZCast to play previous video
SEEK TO
Ask EZCast to skip two minutes twenty seconds

Ask EZCast to rewind thirty seconds
VOLUME CONTROL
Ask EZCast to set volume to ten

Ask EZCast to set volume down by five

Ask EZCast to mute

Ask EZCast to unmute