Since the age of personal computers, there has always been technologies available to us to broadcast content from PC to the big screens and monitors, albeit in wired formats like VGA and HDMI. As more people move from wired to wireless solutions, and switching from PCs to mobile devices, Miracast has become a buzzword strongly linked with projecting content to the large screens.
For people who are unfamiliar about what is Miracast and what it does, here is everything you need to know to start using Miracast.
What is Miracast?
Miracast is a standard for connecting smart devices (such as laptops and smart phones) to displays (such as TVs, monitors and projectors) wirelessly through WiFi. The standard was launched by the Wi-Fi Alliance at the end of 2012, and allows Miracast-enabled devices to communicate with each other and cast media content like "HDMI over Wi-Fi", without the cable.
Features of Miracast include encoding 1080p HD video in H.264 codec, 5.1 surround sound, and peer-to-peer Wi-Fi Direct standard. This means Miracast connection between Miracast-enabled devices can be established with an ad-hoc network or through a local Wi-Fi network.
The flexibility to stream full HD content across the air plus native Miracast support built into Android 4.2 and later devices, Miracast is showing great promise as the best and most popular standard for displaying Android smart phone content on large screens.
Why does it matter to you?
Imagine a scenario where you are sitting in a room with your friends, flicking through TV channels looking for something interesting to watch. Then you discovered the trailer of the latest Star Wars movie on your Android smart phone.
To share your excitement across the room, you have three choices:
Hold your phone out and have everyone gather around your tiny screen to watch the trailer together. The pushing around and THAT guy's head constantly blocking the view makes the experience thoroughly unsatisfying.

Pass your precious smart phone across the room, one person at a time, until everyone gets a turn viewing the video on your phone. By the time the phone is passed around the room, your thoughts are occupied by the possibility of someone dropping your phone than discussing the trailer with your friends.

Play the latest Star Wars trailer on your phone and screen mirror the video on the TV screen using Miracast. This leads to the optimum content sharing experience without getting out of your seat.
As you can see, Miracast is quite a useful tool to have around when you need to view the phone content on the large screen, be it video, picture or presentations.
Devices that support Miracast
First things first, Apple products do not support Miracast, they use Apple's own proprietary AirPlay technology for screen mirroring. So if you are using an iPhone, or a MacBook, you are out of luck regarding Miracast. But you can always use an Apple TV or cross platform wireless display technologies like EZCast to receive content from your iPhone and MacBook via AirPlay.
As I mentioned earlier, all the latest Android devices after 4.2 natively support Miracast. So if you carry a fairly recent Android smart phone, it's very likely you can project wirelessly to Miracast receivers. But there's a catch, Google has stopped supporting in their "own" line of phones out of the box since Nexus 6 in 2014, possibly to sell more Chromecasts, a competing technology from Google. So 6, 5X and 6P of the Nexus line and the latest Google Pixel cannot use Miracast without rooting the devices first.
Windows operating systems have supported Miracast since Windows 8.1 and continue to support the Wi-Fi mirroring technology in Windows 10. If your windows laptop was manufacturer after 2013, and pre-installed with Windows 8.1 or Windows 10, it's very likely your laptop will support Miracast out of the box.
On the TV and projector side, unless you own a smart TV that supports Miracast, you will need a Miracast receiver to help your TV or projector process the wireless content sent from your Android phones and Windows laptop. Some of the most common Miracast receivers include Microsoft Wireless Display Adapter, Belkin's Miracast Video Adapter, and our own EZCast.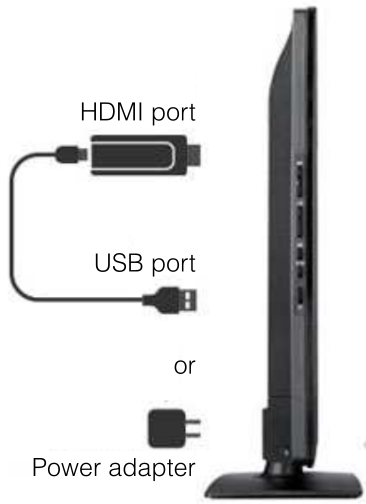 Once you have set up the Miracast receiver on the TV side, usually by plugging the receiver dongle into TV's HDMI port and connecting the receiver to the same Wi-Fi network as your smart device, you can start projecting content to the TV.
How to use Miracast on Windows 10
For Windows 10, a Miracast receiver is disguised as a "wireless display" in the "ACTION CENTER".
First access the "ACTION CENTER" from the bottom right of the desktop, then select "project" to view different ways to project content to an external display. Then choose the "Connect to a wireless display" link to choose the available Miracast receiver devices in the same Wi-Fi network.
Check out the demonstration video below for the actual steps.
How to use Miracast on Android phones
Miracast is also natively supported by Android phones.
The process of screencasting to the Miracast receiver is done by accessing the Miracast function in the dropdown menu, and look for the available receiver in the Wi-Fi network.
Check out the demonstration video below for the actual steps.
Different manufacturers call the Miracast function differently, such as Screen mirroring for Sony mobiles, and Smart View for Samsung Galaxy phones.
You may need to look around to access the right function on different smartphone brands.