IFA is nearly upon us, it's an annual gathering where innovations are turned into consumer technology, all on display for the masses in an exciting week in Berlin during September 6-11.
In keeping with EZCast's tradition of exhibiting at IFA, we will be sharing the best wireless display technology in Hall 25, Booth 263D.

Come see EZCast at Hall 25, Booth 263D.
From the best screen mirroring receivers for home entertainment, to the best wireless presentation tools, we will cover applications from mini projectors to classrooms of the future, all in one place.
A 4K HDR wireless display receiver for your home entertainment
As video consumption continues to move online, we are beginning to see more streaming content in 4K HDR than ever before.
This is where a 4K HDR wireless display receiver will come in handy for streaming 4K content from your smartphone to a 4K TV.
EZCast Ultra with 4K HDR output.
An EZCast Ultra prototype will make an appearance during IFA, to demonstrate the ability to cast wireless media to a 4K HDR TV from your smartphone.
The quad core CPU on EZCast Ultra allows it to decode 4K HDR videos across Wi-Fi from multiple operating systems, including Windows, Android, iOS, macOS devices.
Additional voice control compatibility with Google Home and Alexa Echo, makes EZCast Ultra a must-have for a smart living room.
On the other end of the spectrum is the affordable, but powerful, wireless screen mirroring receiver, EZCast Compact.
EZCast Compact marks the next stage of the evolution for portable wireless display adapters, where the Wi-Fi module has been integrated into the main chassis.
This reduces the complexity of installation to just a single cable, from a USB power source to HDMI port on the TV, and makes EZCast Compact the most portable wireless display receiver on the market.
Upgrade your Wi-Fi router into a wireless display receiver with MagicEther and MagicLink
Since everyone has a Wi-Fi router at home, it presents an opportunity to upgrade the router into a Wi-Fi display receiver with MagicEther and MagicLink.
MagicEther uses the more stable Ethernet cable to connect the receiver to your local network, and connects the output to a TV's HDMI port.
Then you can enjoy the flexibility of Wi-Fi display to screen mirror to MagicEther from any smart device within the network.
MagicLink can work in two modes:
A direct laptop to TV adapter via USB port

Turns router into a wireless receiver
If you want to screen mirror directly from a laptop to HDTV, MagicLink works great as a USB to HDMI adapter.
If you prefer a wireless screen mirroring experience, you can turn your Wi-Fi router into a wireless display receiver by connecting MagicLink's USB connector to router, and the HDMI connector to TV.
This way, you can send wireless content to MagicLink from any smart device within the network.
EZCast Beam J2, a mini projector with mobile-first design
Projector has long been viewed as a computer peripheral, where you project laptop contents to a big screen.
In an age where mobile usage exceeds laptop usage, it's about time EZCast Beam J2 comes along, which is designed first and foremost to work with smartphones.
Whether you use iPhones or Android phones, you can wirelessly project to EZCast Beam J2 to watch a movie, or use a charging cable to screen mirror mobile games on the big screen.
Use EZCast Pro and QuattroPod to create wireless meeting rooms
EZCast Pro is bringing to IFA the next generation of EZCast Pro wireless presentation solution, the EZCast Pro II dongle.
Not only does EZCast Pro II support 4-to-1 split screen presentations, it is compatible with ProCast app to create multi-screen setups that receive wireless presentation from laptops.
QuattroPod is known for a secure but easy to use wireless presentation system that simply clicks to cast presentation to a 4K TV.
We have upgraded the QuattroPod with a new Mini transmitter, which strips away the less common ports, such as Ethernet and Display Port, for a smaller package.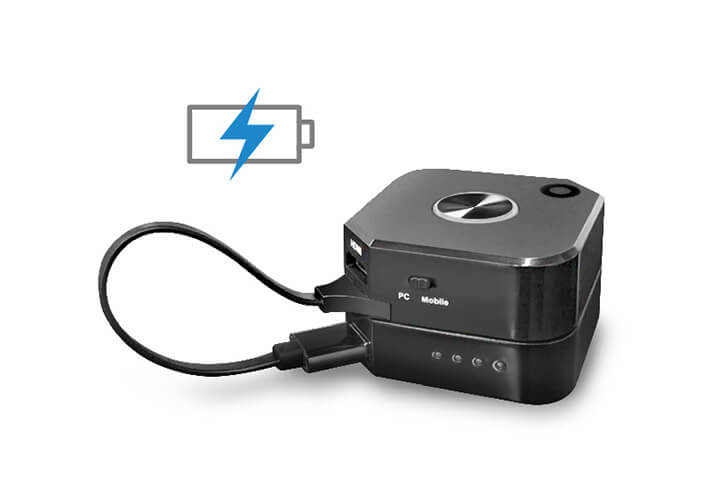 QuattroPod Mini with a battery to make smartphone presentations easier.
QuattroPod Mini, plus the optional battery, allows you to make presentations with smartphones from anywhere of the meeting room.
Come and see EZCast at Hall 25, Booth 263D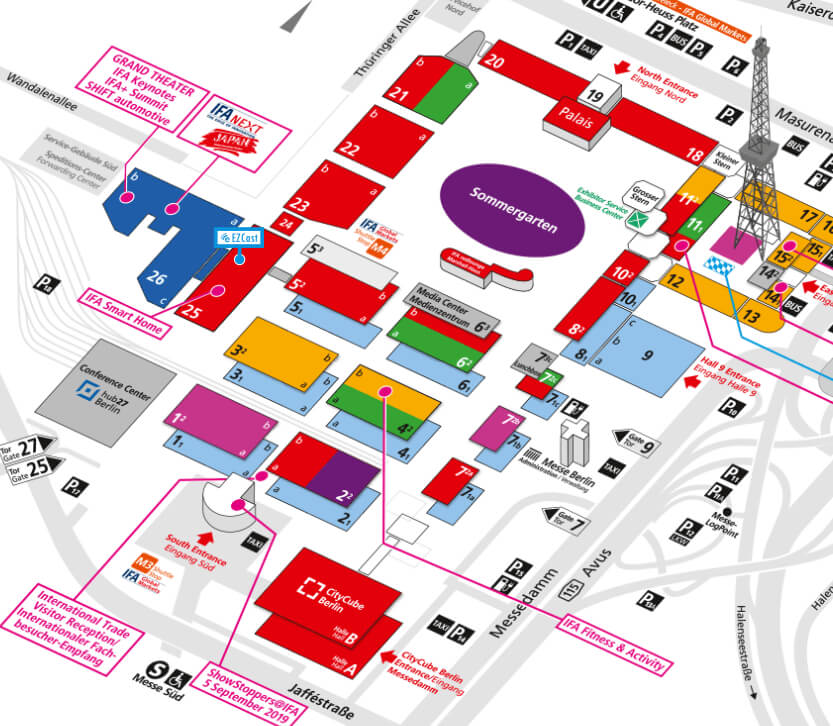 EZCast at Hall 25, Booth 263D.
Book a demo