Cover image derived from Rayukk (Own work) [CC BY-SA 4.0], via Wikimedia Commons
You have your own private space,
A Man Cave to hang out and watch the big game with your mates,
Or just chill with a dozen beers watching the latest episode of Family Guy.
No matter what you do,
It's very likely to have a UHD TV as the center of your entertainment.
If you happen to own an iPhone X,
It may be instinctive to choose an Apple TV 4K to supply your 4K entertainment.
Before you make that decision,
May we provide you with a head to head comparison with EZCast 4K,
So you can make a more informed decision.
The first question you may ask is,
How are Apple TV 4K and EZCast 4K different?
Apple TV 4K runs like a set top box
An Apple TV is packed with a remote,
And it looks and runs a like TV set top box.
Except it has access to millions of apps on App Store,
Most of them are shared with your iPhone and are optimized for the UHD TV experience.
So you can access most of the media content available to your iPhone,
But you play it on TV with a remote,
Just like you are used to with cable TV.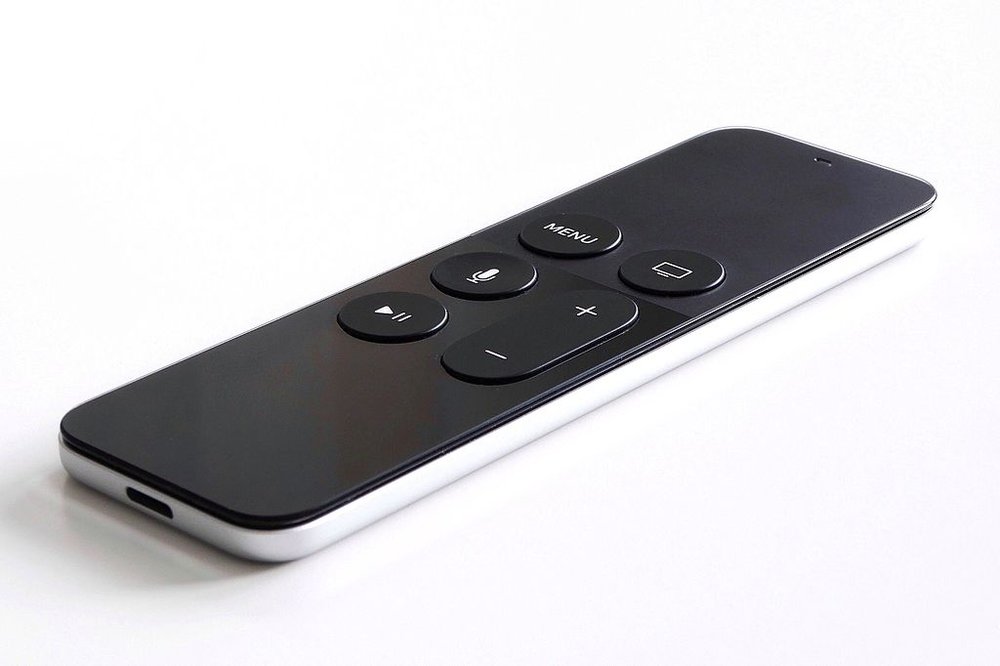 A Siri Remote to mimic normal TV user interface. By Andreas Lakso (Own work) [CC BY-SA 4.0 (https://creativecommons.org/licenses/by-sa/4.0)], via Wikimedia Commons
EZCast 4K lets your smart phone run the entertainment
How EZCast 4K differs is that it works mostly as a Wi-Fi receiver.
So you need to run the media content on your phone, and screen mirror the image to the big screen through EZCast 4K.
Essentially you turn your iPhone into both the smart TV box and the remote.
The noticeable difference you will feel is when you watch movies on Apple TV, your iPhone will be free to function as a phone, and not be occupied as a player in the case with EZCast 4K.
Apple TV 4K works best within Apple's own ecosystem
As you already know,
Apple runs a pretty intimate and connected ecosystem.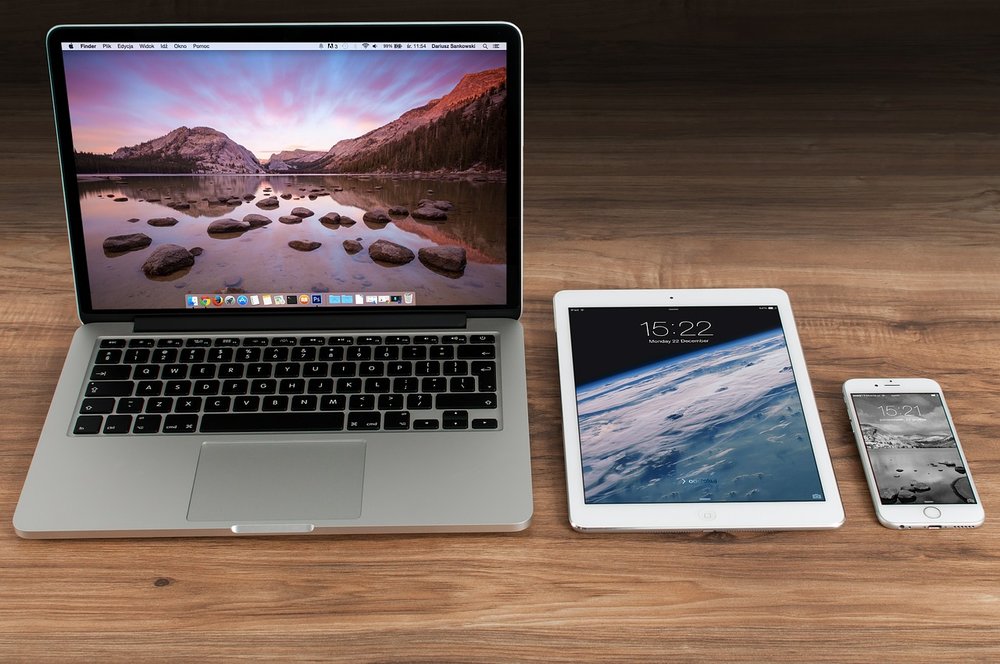 The Apple family.
From iPhone, Mac, and Apple Watch,
There is seamless integration from one device to the next,
All working coherently for you, with the caveat that you need to relearn the user interface of the same apps on different devices.
But,
What happens if you have friends or family with Android phones, and Windows machines?
Then they would have a hard time interacting with Apple TV.
Imagine the situation where your mate finds a funny joke on his phone,
The quickest way to share that laughter with everyone is to AirPlay/Screen Mirror to Apple TV.
This is not possible if your mate owns anything but an iPhone.
EZCast 4K accommodates all platforms
The EZCast 4K supports all major operating systems.
So anyone sharing the same Wi-Fi network can screen cast to the big TV as easy as a click.

EZCast app works with all platforms.
No matter if you use an iPhone, a Mac, an Android or a Windows PC,
EZCast 4K can screen mirror via Miracast, AirPlay or with the companion EZCast app.
This way,
You can crowd source your entertainment when relaxing with friends and family.
EZCast supports both local Wi-Fi network and direct Wi-Fi connectivity
In order to stream content,
Apple TV works best when connected to a local Wi-Fi network, and EZCast can either connect to a local Wi-Fi, or create an ad hoc network to connect with your phone.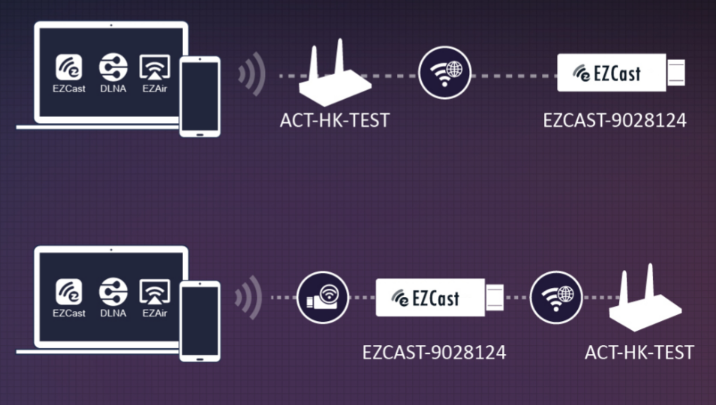 Connect to an EZCast top) via local network, or down) directly.
This is especially useful when you want to bring your EZCast 4K on the go, and continue to enjoy media content on the big screen.
This can be a foreign hotel room with limited Wi-Fi capability, and you can still watch online videos using your mobile data.
Use Apple TV 4K if you live inside the Apple ecosystem, EZCast for flexibility across all devices
You can look around and see if you live and breathe Apple devices.
If you do,
It's a good idea to get an Apple TV 4K for your Man Cave, and have your iPhone free to be a phone while you catch up the latest TV programs.
EZCast 4K is a better choice if you intend to work across more devices, and involve family and friends to join the screen casting fun.
As a bonus, an EZCast 4K only costs less than half an Apple TV 4K.
What other technologies do you use to improve your Man Cave? Please let us know in the comments below.