Have you ever dreamed of having a movie theater in your patio? Do you also love camping and being under the stars? Now you can comfortably take your blanket, a hot mug of coffee, and enjoy a movie on a big screen in your own drive in the theater. EZCast makes this possible with its adaptable, easy to use EZCast Beam J2. This mini projector can work wirelessly with all your favorite smart devices. It supports native mirroring standards, including Miracast, iOS screen mirroring, DLNA, and most popular OS devices. Alternatively, you can use a charging cable to screen mirror your iPhone, Android phone, or HDMI cable to a computer for a marvelous experience, perfect for viewing movies with bright, vivid pictures. Once you pair your device with the EZCast Beam J2, you will have these features: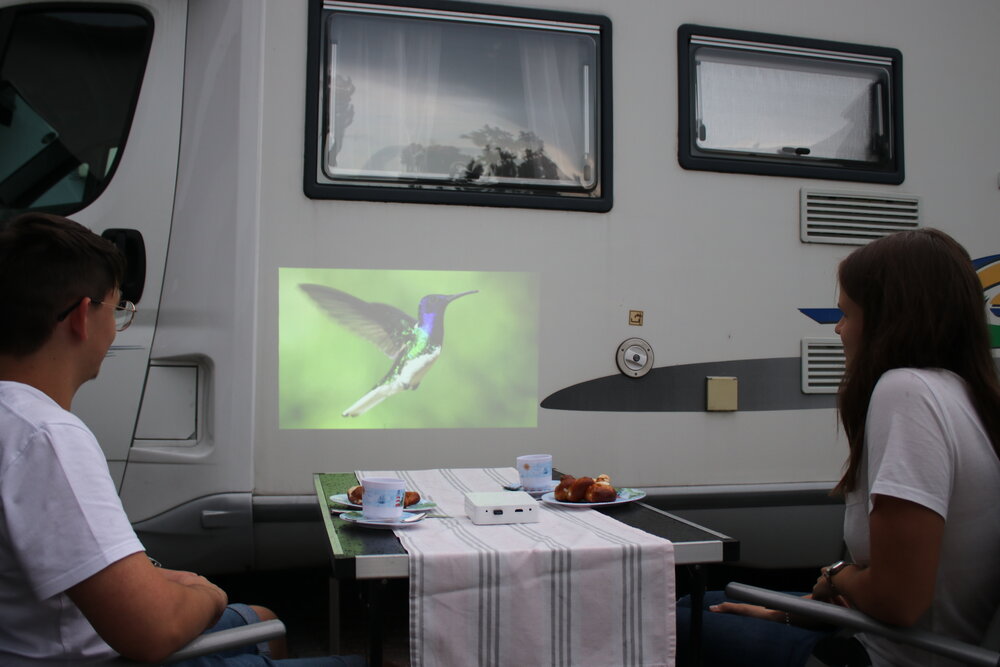 1) Screen mirror through charging cable
2) Wireless projection
3) Up to 30,000 hours of lamp lifetime (this is 10x longer than a traditional projector bulb)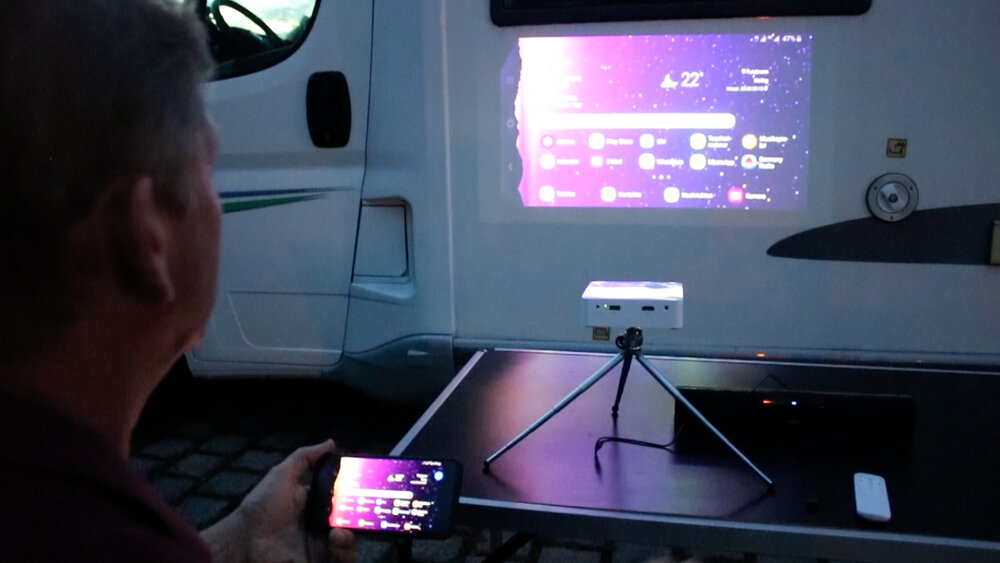 This was the case of Mr. Heinz-Willi Schaefer, Executive Director of MVM MobileVisionMedia GmbH, who had a drive-in theater night with the EZCast Beam J2:
"The EZCast Beam J2 is only 115 by 115 millimeters and, thanks to an integrated battery, it can operate for up to three hours without a power supply, on a single charge. The built-in protocol can be used to project the image. If you can play a Netflix film on your Android smartphone or tablet, you can now easily transfer it to the projector. This throws the picture on a wall or a projection screen. Incidentally, the outer wall of a motorhome is ideal. This projector can be used on any surface. For a better quality of image resolution, you can choose a light color background. For the "screen size" of just over two meters, the picture quality in the test was surprisingly convincing. The room or environment should also be darkened. If you want better sound quality, you can connect a Bluetooth box via a jack plug. In short: the price of $299 is fair in terms of performance."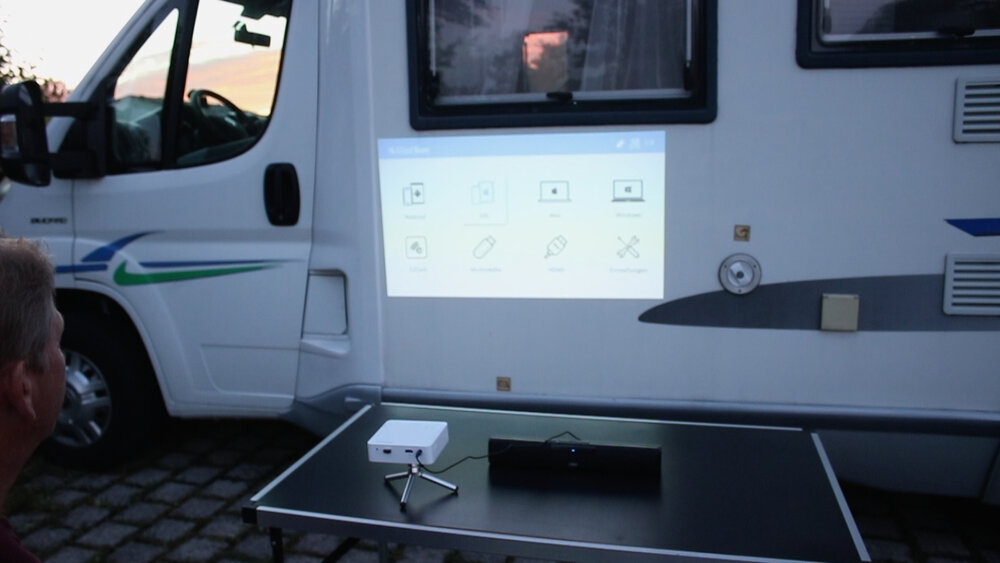 Consequently, you can use this projector anywhere you want and enjoy it at any time, any place. Its portability and battery performance allows you to carry it to all the locations you want. Additionally, you can watch your favorite films from a USB memory device (memory stick or HD/SSD) and you can use the HDMI input of the projector to connect it on rainy days e.g. with a satellite receiver to watch TV or with a gaming console to play your favorite online games in the motorhome.
*It is about the size of the palm of your hand, including the advantages of bigger projectors. This makes it perfect for traveling.
*Once you are streaming your favorite show or film you have the option to adjust the image focus and the size of the screen. In addition, the EZCast beam J2 counts with smart keystone functions to adjust your projector image based on the tilt of your machine. With the feature, you can see the image correct its own shape and it will automatically align images on the vertical axis, also with 4 corner correction you can project images from any angle. After this, you can invite as many friends as you want to your screening.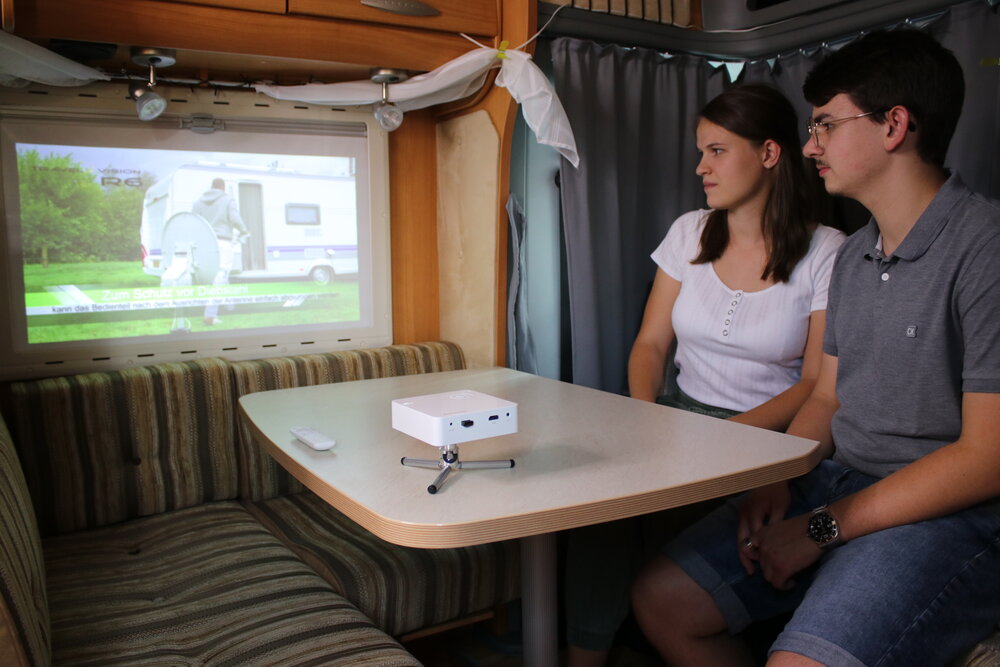 Don't forget to expand your experience with the EZCast app!
For more information about the product, check out the following links:
EZCast Beam J2 - Easily project your smart devices at any time, any place
EZCast Beam J2 mini projector unboxing
How to enable internet streaming to EZCast Beam J2 mini projector
Enjoyed this article? Please 📽 do share it.
Here are some other articles that we think you might be interested in:
4 things you need to know before buying a projector
The Best Projector for Gaming You Should not Miss Out in 2020