About Galaxy Projectors
Starry and Galaxy projectors are a top trend right now, from tik tok to Instagram. With them, you can project super real constellations and observe each star & the moon in your favorite room wall or ceiling, while listening to calming music waves. With EZCast Beam V3 (a wired and wireless display projector) you can transform your house into a planetarium every night and every day. Elevate your leisure time by having a skylight laser astronomical adventure! Bring the night sky into your room!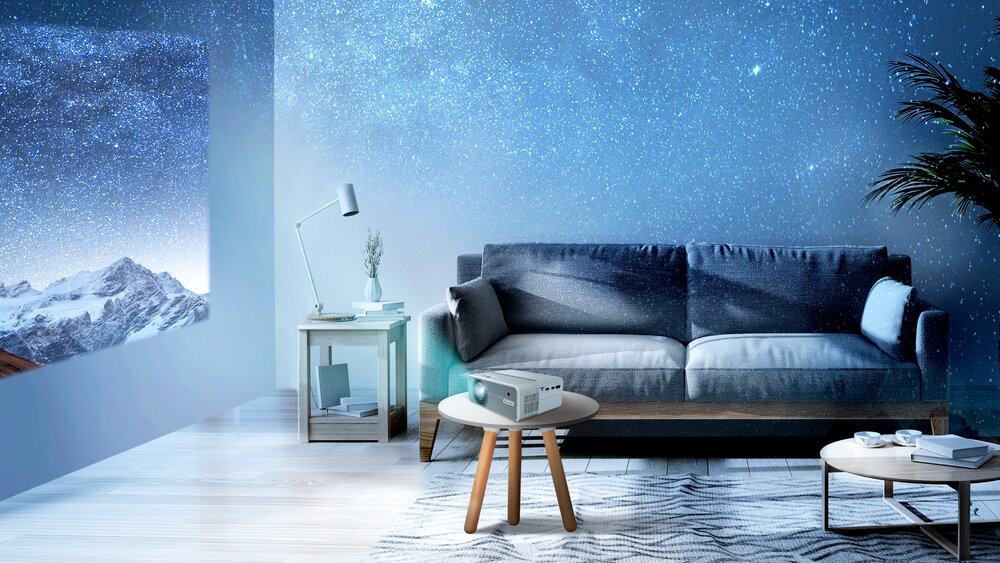 Bring the beauty of the universe indoors, watch a distant star, and experience an aurora light show. The world's first portrait mode projector and one of the best LCD projectors, using wireless display technology EZCast Beam V3 permits you to find the universe from the solace of your home. Besides just projecting a realistic holographic creation, EZCastBeam V3 wireless display lets you explore space on a whole new level. For example, you can go to Stellarium-web and admire an authentic sky in 2D just like what you see with the naked eye, binoculars, or a telescope. EZCast Beam V3 wireless display offers an unrivaled projection experience. By offering portrait projection and 2D electrical keystone, it offers more than you can imagine. Just module the EZCast Wi-Fi adapter and it's prepared to use with all popular OS devices and projects wirelessly. Plug and screen mirror with a charging cable, inundating you in great projection.
Similarly, in Google Sky, you can see a celestial map which allows you to do diverse activities such as star by star gazing, and observe different celestial objects like constellations, galaxies, planets, or the Moon. When watching an interactive sky chart, it might be convenient to take advantage of one of EZCast Beam V3's features. This is that with this projector you can enjoy two different ways to enjoy your content. Other than the horizontal projection, the innovation portrait mode allows you to project upright images and mobile phone's content with full screen. Making it one of the best choices instead of just a galaxy projector.
If you are not in the mood of exploring constellations and celestial objects you can only focus on admiring fabulous nebulae. Splashing in explosions of colors and texture you can appreciate NASA's image of the day. Varying from the cyclones of color at Jupiter's North Pole to pictures the Hubble took of a Supernova Host Galaxy. This projector lets viewing images from different angles. Being more than just a lamp this projector with 2D electrical keystone, adjust the images from horizontal and vertical direction with the remote, make every corner of the image clear.
With this said, it is pretty obvious that with EZCast Beam V3 you can bring the constellations to you!
If you are in a mood where you only want to listen to music and stare at the stars, you can always just make a playlist of your favorite universe pictures and videos with EZCast APP. Within it you can use EZChannel to search for topics of your interest, find videos with hashtags, and even create your own video playlists in different categories! Play some background music and enjoy a fancy dinner while feeling you are immersed in the Lalaland planetarium scene. One of the advantages of EZCastBeam V3 is that it can also be used as a Bluetooth speaker delivering to you marvelous sound at any place you go. Experience better sound while watching a video with an upgraded 5-watt speaker.
Fulfilling your entertainment needs
In EZCast we are experts at wireless display. Wireless display (WiDi) is an innovative technology that enables users to stream music, movies, photos, videos, and apps without wires from a compatible computer to a compatible HDTV or through the use of an adapter with other HDTVs or monitors. That's why we work hard so you can enjoy streaming at greater speeds. This projector supports dual-band 2.4G/5G Wi-Fi network to enjoy faster and more stable streaming. It is also tailored for mobile. You can enjoy a more stable performance by using a charging cable to screen mirror your mobile. Last but not least, with EZCast you can enjoy wireless to the fullest. It doesn't matter which OS device you use, you can have an amazing wireless projection experience with EZCast Wi-Fi adapter. EZCast Beam V3 is a versatile home projector equipped with HDMI and USB port, 3.5mm audio jack, micro SD card, and Wi-Fi adapter sockets, to meet diversified entertainment needs.
In short, this projector offers a wide variety of ways to enjoy your astronomic desires. Each star in the night sky is at your reach! Checkout this amazon projector: https://www.amazon.com/dp/B088H2HNCR
More info:
Enjoyed this article? Please 📽 do share it.
Here are some other articles that we think you might be interested in:
Entertainment at Home for the Whole Family Amidst COVID-19 Pandemic
This EZCast Beam J2 Portable Mini Projector Will Turn Your Outdoor Camping into a Cinema
EZCast Beam V3 Transforms your Home into Multi-Functional Space