The confinement of a large part of the population has also made people transform their homes into their work and entertainment space, leading to growth in the consumption of projectors.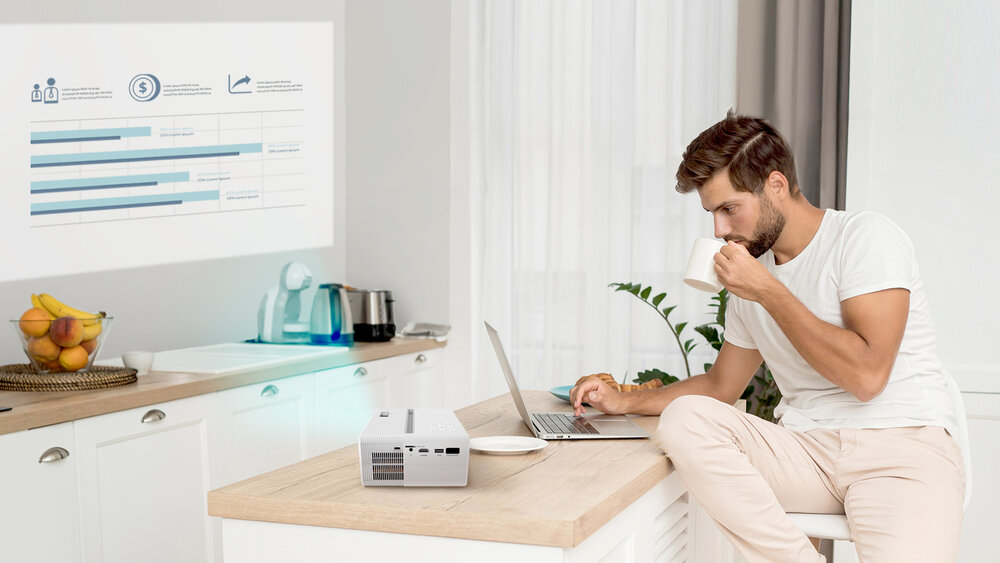 As remote work becomes normal, portable projectors where you can work on online presentations are becoming crucial. Some important features these projectors must include are good resolution, keystone correction, and wide compatibility.
Work From Home with Cable and Wireless Connections, The Best Compatibility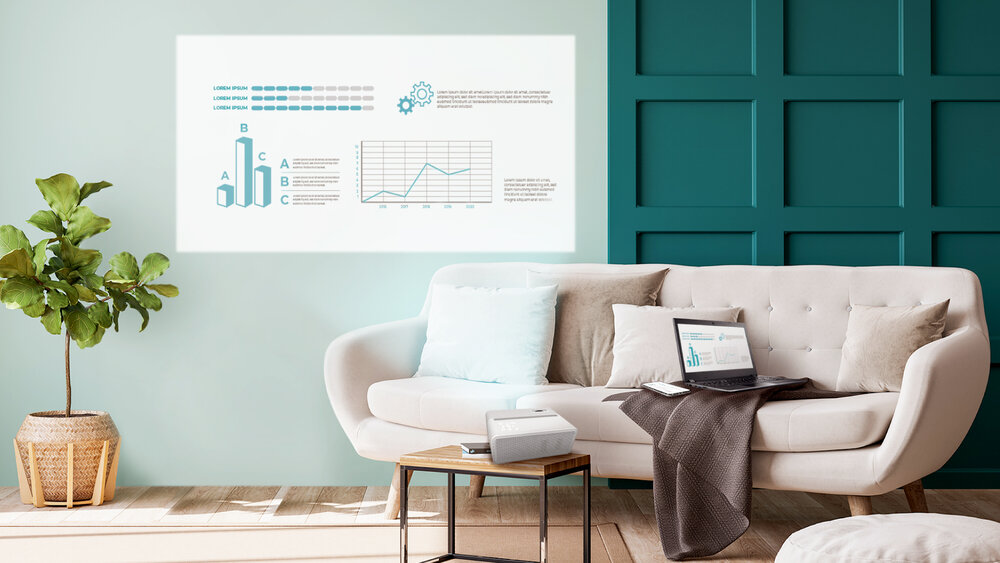 You can connect the EZCast Beam H3 projector to a smartphone or laptop by Type-C cable directly. This may become useful because it makes this projector compatible with all the newest smart devices like iPad, Android smartphones, and more.
Moreover, it's equipped with HDMI, USB-A, USB-C port, 3.5mm audio jack, micro SD card, and WiFi adapter sockets to support multimedia play. The WiFi adapter that comes with EZCast Beam H3 allows you to use your mobiles, laptops, or tablets to screencast wirelessly. It is important to mention that the included wifi adapter supports a 5GHz / 2.4GHz WiFi connection which makes the transmission strong and stable.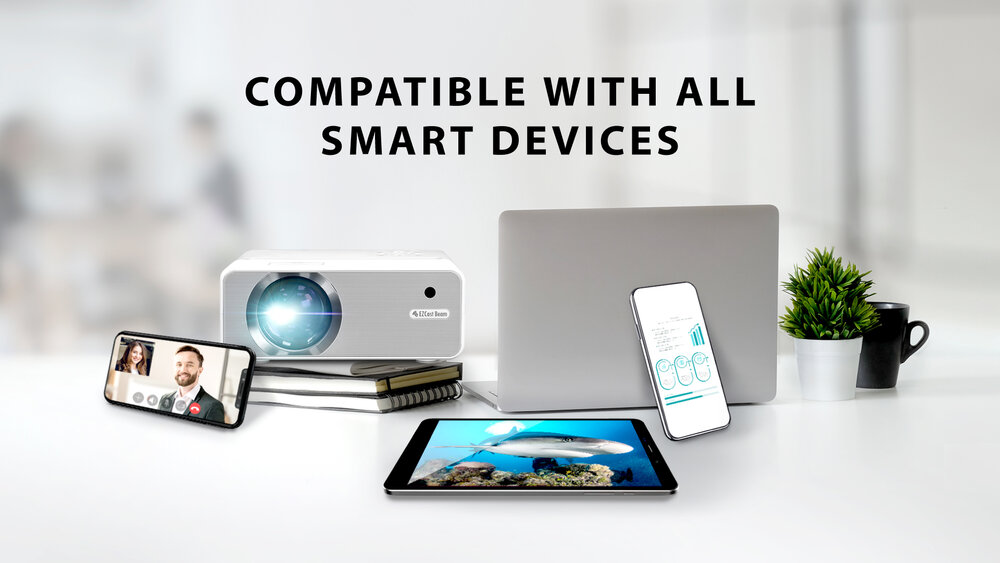 Why is this important? This becomes handy when working from home as you will be able to effortlessly work on online presentations from any of your own devices. You will be able to access your email, spreadsheets, video conferencing applications, and make a VoIP call from your own smartphone, laptop, or iPad.. If you work remotely this is an ideal option as you won't need to worry about carrying your files around, you can access your information in an easy way.
Remote Work Productively with The Perfect Resolution for Any Content
A 150" display makes it the perfect option for small or medium-sized rooms. As it is portable and can be used wirelessly it is suitable for any home work without the hassle of wiring in the walls.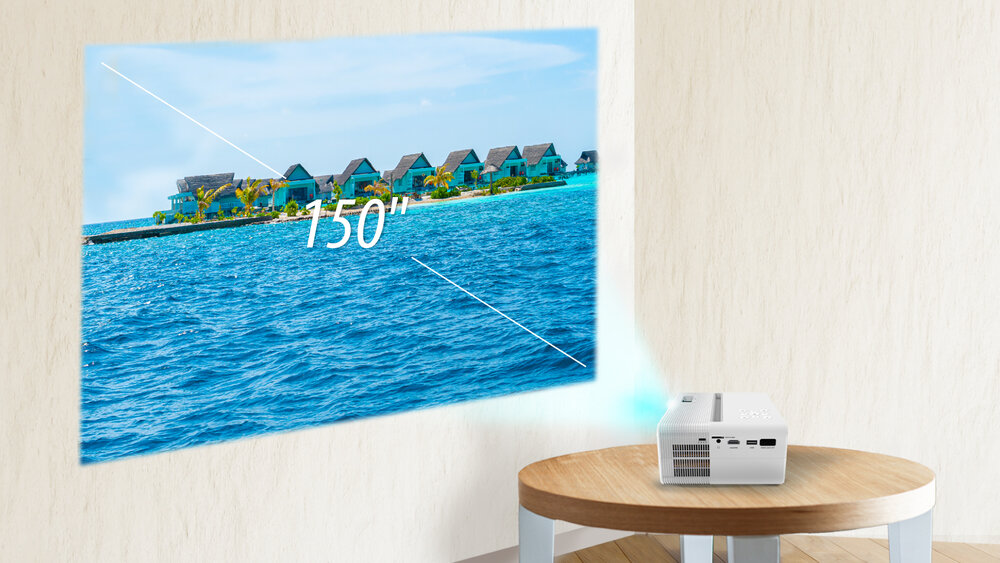 The contrast and brightness allow it to form eye-catching visual impressions with brighter and sharper color performance, delivering dynamic and vibrant colors. The resolution and display size allow a clear image of our colleagues when having a virtual meeting and have the space to show the data in a comfortable way. Sometimes when you work for too long, the projector may be too bright and might harm your eyes. However, EZCast Beam H3's brightness will let you work more comfortably even if you use it the whole day. This is especially useful when you are hours and hours in long meetings and you are staring at your computer the whole day.
Remote Work is Facilitated with EZCast Beam H3
Besides, being able to share virtual data in a comfortable way and reducing eyestrain, with EZCast Beam H3 you can effortlessly contribute with your colleagues. Easily share the content you have on your computer or in the cloud with your interlocutor. Creating a video conferencing space is now facilitated, all you will need is an apparatus with a video camera, microphone, and internet connection. With a big display, you will be able to create a formal and official environment.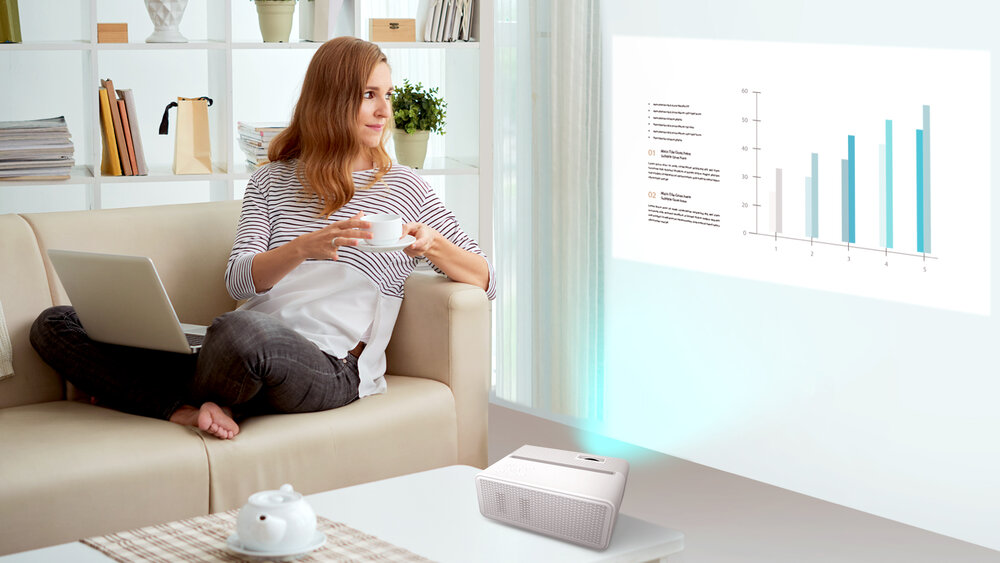 Productivity & Collaboration From Any Angle with Auto Keystone Correction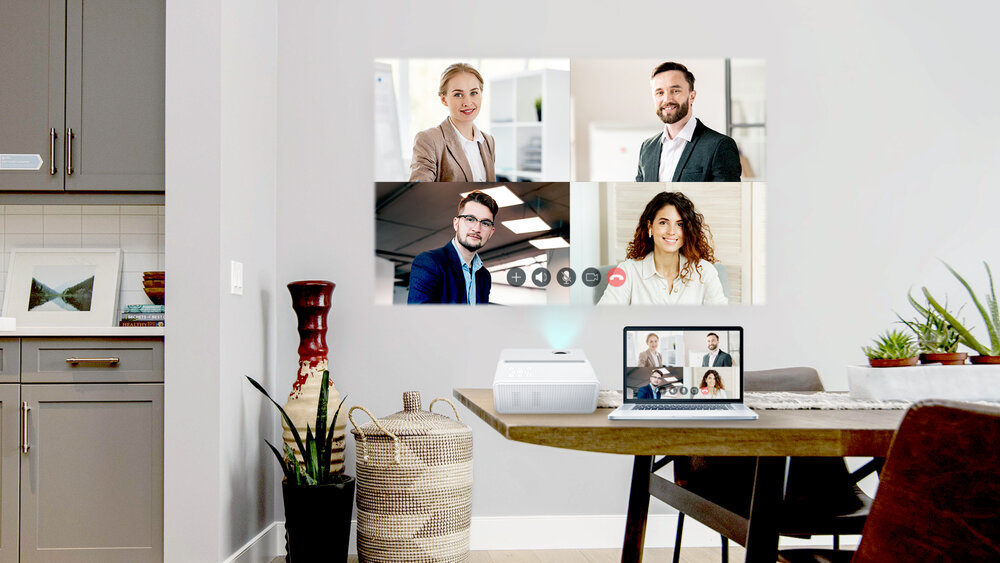 Keystone correction is a vital element for projectors for work use because it will automatically fix disproportionate imagery. Contrary to other 2D keystone corrections, EZCast Beam H3 projects perfect images from any angle. This function helps to automatically adjust the data that is displayed on the screen, reduce distortion and adjust the image no matter from which distance. You won't need to worry about manually arranging any of these characteristics, this makes EZCast Beam H3 really easy to use.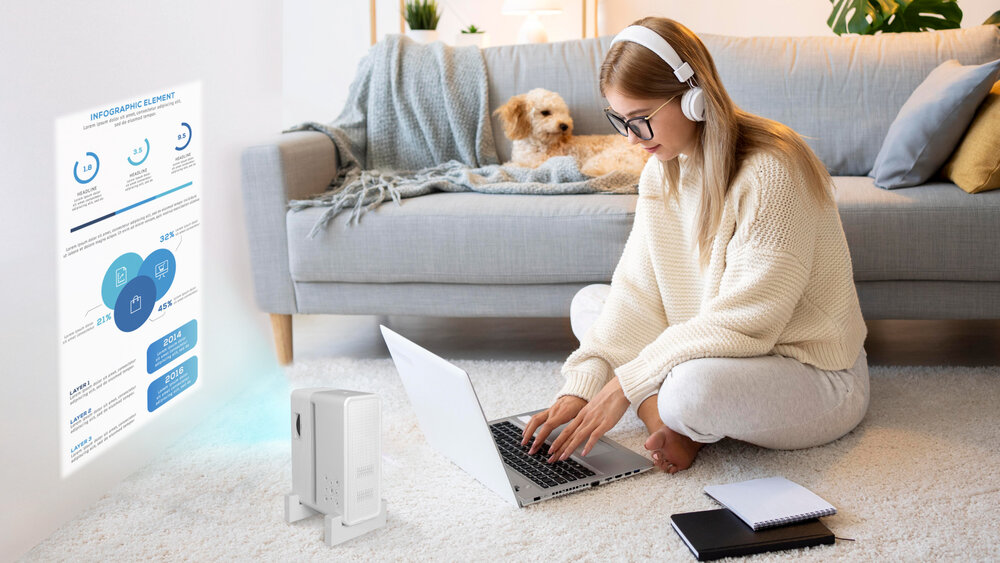 In addition, the auto portrait mode provides the best image no matter which way the smartphone tilts. Both horizontal and vertical modes can be used which can be perfectly used to display different media as presentations, videos and pictures.
Ideal for Work From Home - Home Stays Productive and Fun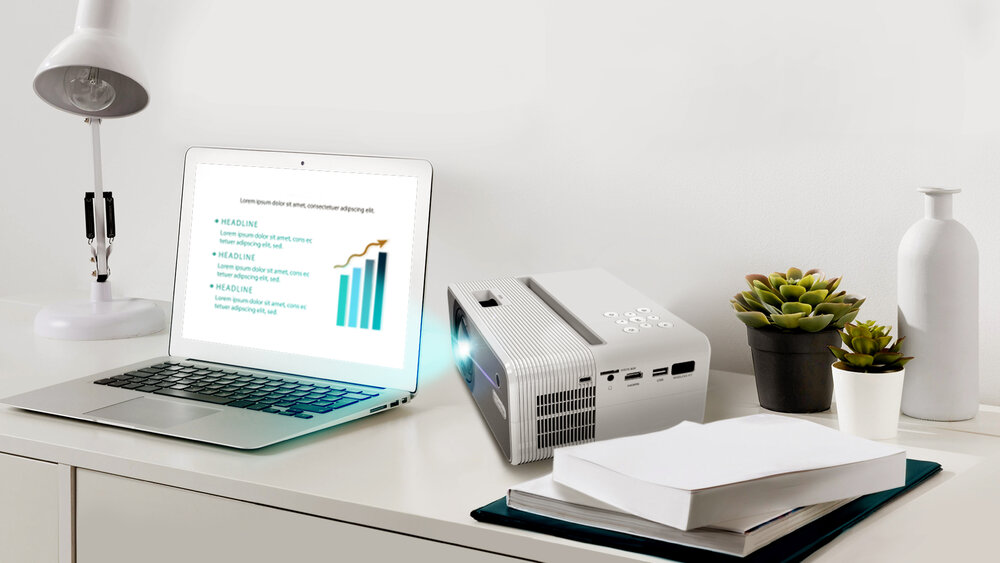 This projector has been specially designed for double use: work and entertainment. As its design is versatile and efficient, EZCast Beam H3 allows you to view images with Full HD resolution. Its portable design will let you project the content of your smartphone anywhere, anytime.
In conclusion, the capabilities of EZCast Beam H3 will enable a collaborative and interactive environment even if you are remote working.
Get a 10% discount on EZCast Beam H3 with the code: BeamH3A1 at EZCast Amazon Store.
GET IT NOW
Follow us! We have IG, FB, Youtube, and Linkedin.
More content you might like:
The Best Gadgets to Watch the Olympics
How to Play PS5 with a Gaming Projector