As a long time EZCast dongle user, you might know all the bells and whistles of the EZCast app since you use it to run your dongle every day.
From setting up your EZCast dongle for screen mirroring, to watching your favourite online videos on EZChannel, to web browsing on the big screen, and watching family photos on TV, I'm sure you know most of the major features like the back of your hand.
In case you missed out on a few update announcements, here is the complete list of EZCast settings you can use to setup your EZCast dongle.
Setting up your EZCast dongle for screen mirroring
EZCast app was originally designed to be a companion app to EZCast, a line of universal screen mirroring receivers, and therefore it is the best app to setup and optimise your screen mirroring experience on the EZCast dongles.
Once your smartphone or laptop is connected to an EZCast dongle, you can use the EZCast app Settings to make changes to your EZCast dongle.
We will go through the complete Settings menu and what each setting can do to improve your screen mirroring experience.

The complete EZCast Settings menu.
Connect your EZCast dongle to an internet-enabled Wi-Fi network
If you need to watch online content, such as YouTube and EZChannel, through an EZCast dongle, the best way is to connect your dongle to an internet-enabled Wi-Fi network.
EZCast app allows you to search for available Wi-Fi networks in the area, and input the passwords to connect your dongle to secure Wi-Fi networks.
Change the dongle resolution
Depending on the EZCast dongle model you have, you can change the output resolution from full HD to 4K.
Change the dongle language
You can change the dongle language to any of the 16 languages available in the settings to make it easier to use.
Change the dongle device name and password
Every EZCast dongle is assigned a unique name and password for its Wi-Fi network.
You can change the device name and password in the Settings to something more personal for you with added security.
Change settings to dongle when playing EZChannel content
EZChannel is a great way to browse and curate online videos across multiple platforms.
When you access the EZChannel Settings inside EZCast app, you can toggle whether the dongle can play EZChannel videos, the display of active playlist name, the display of dongle SSID, change volume, and the time to wait at standby before playing your EZChannel playlist automatically.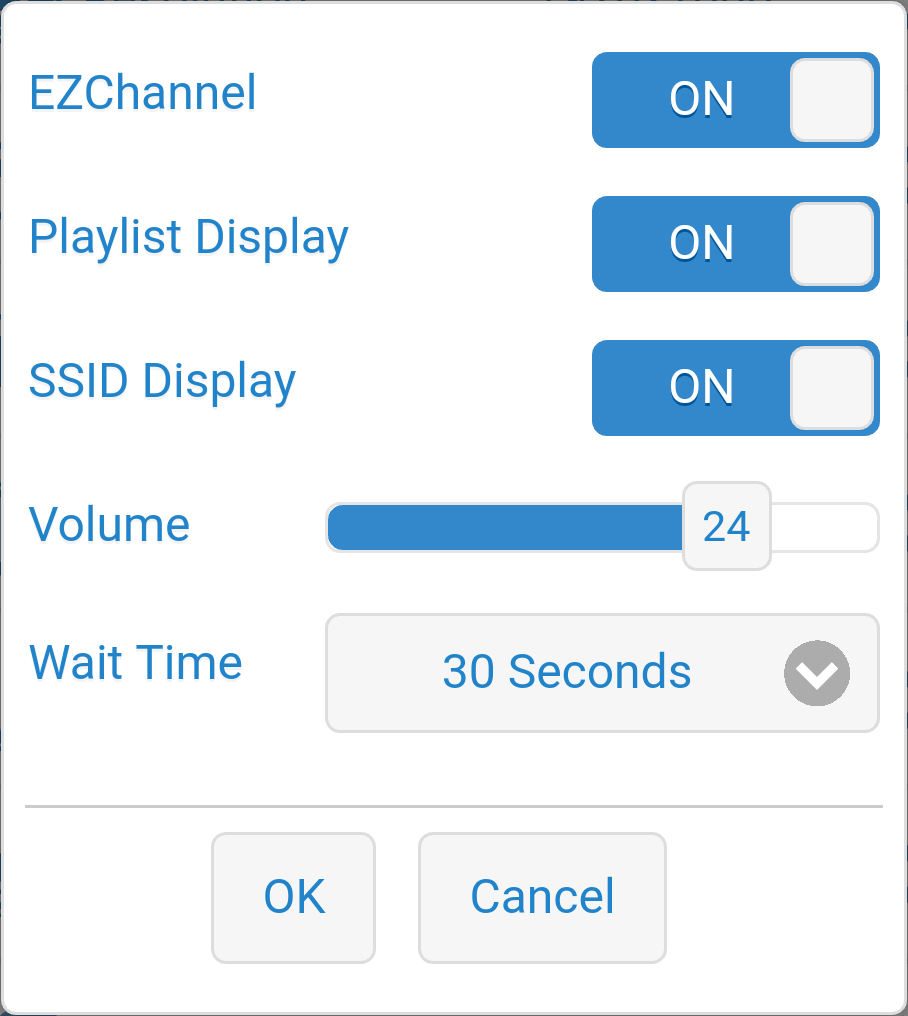 Dongle settings when using EZChannel.
Coupled with EZChannel, you can set up your TV to play your favourite list of videos on start up.
Replace the standby screen with high resolution photos
If you use EZCast to screen mirror your video entertainment every day, you would easily learn the connection steps by heart, and you won't need the instructions on standby screen to help you anymore.
So we created a feature to replace the usual standby screen with a rotating carousel of beautiful, high resolution photos.
This way your TV becomes an exhibition for some of the best photography around the world during idle.
Change the way the dongle handles AirPlay with EZAir
As iOS continue to evolve and change the way AirPlay screen mirroring works, we support different ways to handle AirPlay protocols so the dongle can continue to work after major iOS updates.
Set a timer to turn off EZCast to save power
The Power Saving function allows you to turn off the dongle after a set time so you can save power.
Upgrade the EZCast dongle firmware
If you are like me, you might have your EZCast Wi-Fi dongle connected to your local Wi-Fi network 24/7.
In this situation, your EZCast Wi-Fi dongle will automatically download the latest EZCast dongle firmware as soon as it becomes available, keeping it updated with the latest and greatest firmware for better device compatibility.
But in case you want to manually check for the latest firmware, you can use the Upgrade function to download the latest firmware version to your dongle.
If you happen to own a plug and play EZCast dongle, you will need to share your mobile's internet to download and upgrade its firmware.
Reboot your EZCast dongle
When you make changes to your EZCast dongle settings and want to reboot it to confirm the changes, you can manually trigger the reboot in here.
Factory reset your EZCast dongle
Reset the EZCast dongle back to factory default and erase all saved changes to it.
Share mobile internet with EZCast dongle
There are situations where an internet-enabled Wi-Fi network is not within reach for your EZCast dongle, so you will need to share your smartphone internet with EZCast to watch online content on TV.
Hopefully you have learned more about all the EZCast app settings you can use to customise your EZCast dongle to your own viewing experience.